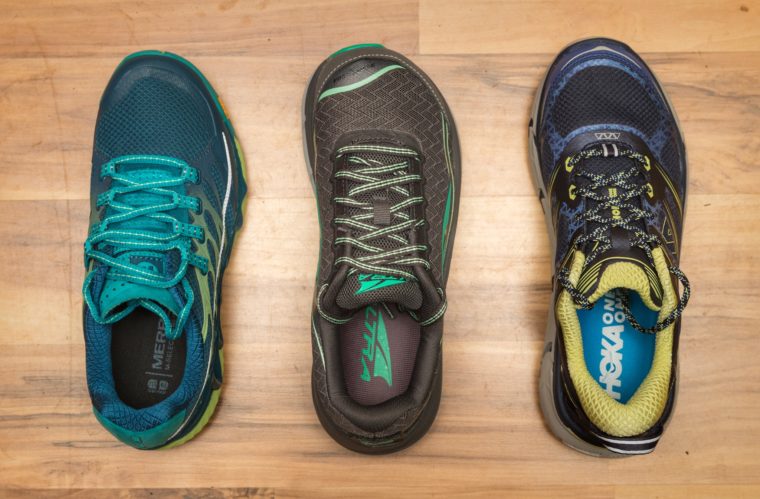 We made it to another year! Happy Shoe Year, everyone!
Our Predictions for 2017 are up, as well as our Top7Trail Brands and Staff Favorites.
Now it's time for the Best Selling Shoes at the shop for 2016.  We do a #Top7Trail List for every month except June when we do a MidYear Summary and December when we do the Year End Lists, here. We don't include Sale items, just regularly priced shoe sales.
Again this year our sales were predominantly in the Trail Running Category: 69.6% trail running shoes compared to 30.4% road running.   We sold 60% Men's shoes vs. 40% Women's.
We bring in a lot of trail running models; all we consider to be great.  These here proved to be the best of the best:
Top7Trail 2016 Women's (in terms of numbers sold January-December)
Merrell All Out Peak – For the second year in a row, the All Out Peak takes women's top honors. The shoe just fits great; its replacement, the Agility Peak Flex has a lot to live up to. Try it on, today: it's at the shop early!
Altra Olympus 2.0 – Cushion was big in the Ladies Top3 and none had more cushion than the Olympus!
Hoka Challenger 2.0 – These may have been higher if we hadn't had to start selling them on Sale early when REI got the Challenger 3.0. Hoka has continued to cater this shoe to REI so we'll likely order very few in 2017.
Altra Lone Peak 3.0 – Surprised that these fell out of the top 3 since we think it's the best fitting Lone Peak ever–especially in terms of snug heel and midfoot fit.
Saucony Peregrine 6.0 – These likely would have been higher up, but they were sold out nearly every time we tried to get more; definitely missed a few sales there. We ordered lots more of their replacement: Peregrine 7–which is now available at the shop.
Altra Lone Peak 2.5 – Like in years past, if we had combined LP3 and LP2.5 sales, the Lone Peak franchise would have been #1 overall. They change models July 1; so each model has only 6 months to rack up sales!
Altra Superior 2.0 – A steady seller; fits more narrow than Lone Peak, but is lighter, lower to the ground and more flexible. Superior 3.0 is now at the shop!
With Pearl Izumi's exit from the running business announced in August, we decided to remove them from our end of the year lists. Pearl would have had shoes #6 and #7 for the year otherwise.
Looking back at our Prediction7 from last year, we missed on the New Balance Gobi and Topo MT2. The Topos were actually really close–but when we heard of the Topo Terraventure we stopped ordering MT2.  So excited for the more cushion and traction the Terra provides–and it's now available at the shop!
Top7Trail 2016 Men's (in terms of numbers sold January-December)
Altra Lone Peak 3.0 – The LP3 sold more in 6 months than any shoe we had over the course of the whole year! We think it sold more in a calendar year than any model we've ever had.  At the end of 2015, I called 2016 the Year of Altra Running.  I should have said: the Year of the Lone Peak!  The hits keep on coming because in July the LP3.5 launches, and I bet it outdoes what the LP3 did in 2016.
Atra Olympus 2.0 – Almost beating out the LP3 for top spot, the Olympus 2 took sales away from Hoka.  Max cushion; extra Wide; amazing traction.  It was a perfect 100 mile shoe for wide feet.
Altra Lone Peak 2.5 – The LP3 from July through December sold more than twice the amount as the LP2.5 did from January through June.  Will the LP3 suffer the same drop off in 2017?
Altra Superior 2.0 – The Superior is a sneaky little shoe; it never feels like we sell that many, but over the course of the year it just keeps racking up sales!
Saucony Peregrine 6.0 – Same with the women, lack of supply prevented these from being higher up the list.  Come check out the Peregrine 7hills now! You'll be impressed!
Merrell All Out Peak – Holding strong for women, these slipped a lot for guys.  To much competition from other high-cushioned shoes had us predicting the plummit at the end of 2015. We actually predicted it to fall out of the Top7 altogether–and it would have if we counted Pearl iZumi.
Hoka Speed Instinct – These offer a great compromise between Hoka and a "normal" shoe: providing lots of protection while feeling more nimble.  If it fit wider, it could have made our Top3.  The Speed Instinct 2 with a softer mesh upper looks to be more accommodating of wide feet.
Again Pearl iZumi would have had a couple models in the Top7 Men's list too, but we removed them because they removed themselves from the running business.
There were no real surprises here, but we had one big miss of 2016:  We thought the Montrail Trans Alps was going to be a hit.  It was a total bust, proving too heavy for most runners to take seriously.  Now that Montrail is becoming Columbia/Montrail, we're giving up on the brand completely.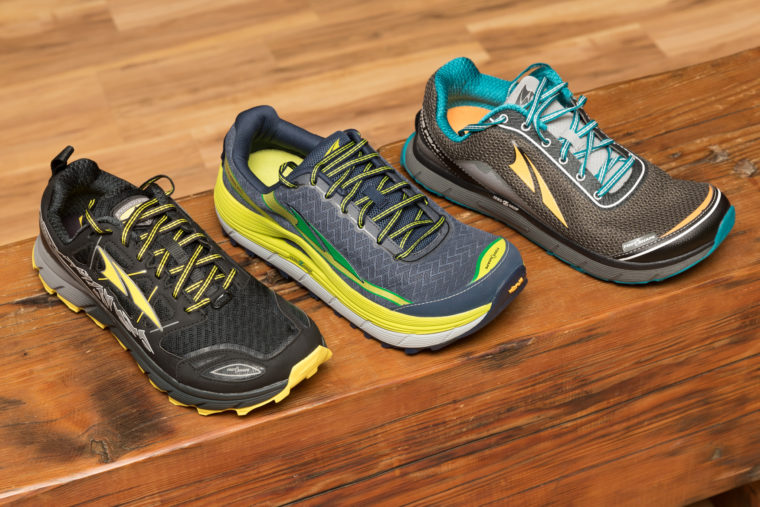 Just For Fun:
Women's Top 7 Road Shoes of 2016
Brooks Launch 3.0
Hoka Clifton 2.0 & 3.0
Altra Torin 2.0 & 2.5
Saucony Ride 8.0 & 9.0
New Balance Zante
Topo Fli-Lyte
Brooks Ghost 9
Men's Top 7 Road Shoes of 2016
Altra Torin 2.0 & 2.5
Hoka Clifton 2.0 & 3.0
Topo Fli-Lyte
Altra Instinct 3.5
Topo UltraFly
Altra Paradigm 1.5 & 2.0
Brooks Launch
Happy New Year Everyone!! #2017hills