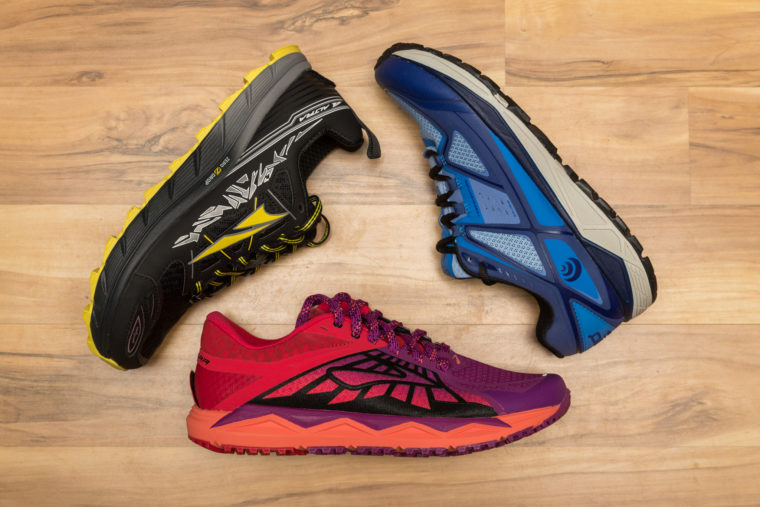 We love our #Top7 lists! Especially towards the end of the year. Here's a new list for us: the #MustHave7 – The seven trail running shoes all shops should have to start 2017.
To spread the love, we restricted it to one model per brand maximum.
1) Altra Lone Peak 3.0 – One of only 2 models on the list that changes mid year, but we'll likely sell more of these in 6 months than most models in 12 months! It has become the flagship shoe of trail run specialty and has crossed over well to hikers, especially the PCT through hiker crowd.
2) Topo Terraventure – We've had these about a month and consensus is: Golden. It is very similar to the Lone Peak, but if anything, wider in the toe box. It's 3mm heel lift will be a bit less worrisome for folks new to the "low drop" game.
3) Brooks Caldera – This is Hoka by Brooks. A better fitting Hoka, these new Brooks shoes will appeal to the max cushion crowd. A great road/trail hybrid as well.
4) Hoka Speed Instinct – This is the 2nd shoe on the list that will be updated in July. Even though the Speed Instinct 2 will have a nicer upper, the original Speed Instinct available now is so unique: combining all the protection you've come to appreciate from Hoka in a much more nimble package. When the Challenger was released, it made all other trail Hokas seem old-fashioned. The Speed Instinct makes the Challenger feel like a relic.
5) Saucony Peregrine 7 – One of two shoes on the list we don't have yet. It launches early January and picks up right where the Peregrine 6 left off. v7 has a better upper, but the same traction and cushion that made v6 a hit!
6) Merrell Agility Peak Flex – These replace the Merrell All Out Peak, and even though Merrell replaced the Vibram MegaGrip with its own grippy rubber–and completely overhauled the tread pattern–we're still convinced it will perform at a high level. The cushion seems on par with its predecessor, too. The improved upper on the Agility Peak will make the "out of the box" feel much nicer than original Peak as well.
7) Scott SuperTrac RC – The 2nd shoe on the list we don't have yet; luckily we've gotten to demo a production pair! These new Scott's were built for speed, but easily have enough cushion for 50k/50miles. Alex Nichols used them for his Run Rabbit Run 100 mile win. The Scott brand developed the E-ride rocker midsole mimicked later by Pearl Izumi in their E-motion line. So Pearl iZumi fans may have a new home in Scotts. The SuperTrac RC is like the Pearl Trail N1, but with amazing traction.
Honorable mentions:
Inov-8 Roc-lite 290 and 305 – these new Roclites have amazing traction, nice uppers and a softer feel than traditional inov-8s due to their new PowerFlow midsole. Why didn't they make the MustHave7?! We just couldn't decide which one: 290 or 305!
Altra Superior 3.0, Olympus 2.0, King MT – if we didn't limit the models to one per brand, we might have put all these Altra models on the list too!
New Balance Hierro 2 – We still don't like the name, but they added Vibram MegaGrip and more cushion to the Hierro 1, so it's gotta be good!
Stay Tuned for other Top7 lists!!
Other recent Top7 lists: