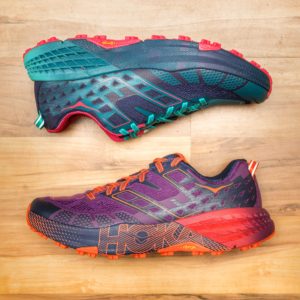 The prediction lists for the upcoming year are my most favorite lists of all! There are other shoes of 2018 we are excited for, but these here are the ones we believe will sell best at the shop.
Top7Trail Men's 2018 (Prediction)
Altra Timp – The Timp stays the same through at least most of 2018. Sales may dip from its hot start but it'll have more months in 2018 to rack up sales than it did in 2017.
Hoka Speedgoat 2 – Another strong 2017 shoe that will be unchanged all of 2018. These could become our #1 shoe easily; my only hesitation is that they're just too tight for some folks–namely, me!
Altra Lone Peak 3.5 – The Lone Peak 4 won't arrive until September giving it little time to add up sales.
Salomon Sense Ride – Arriving in July 2017, these almost made the Top7 for 2017. Double the sales with double the time?! Hope so!
Topo Terraventure – Remaining unchanged most of 2018, it'll be hard for it to fall further than this. Runventure 2 sales will take away some Terraventure sales.
Hoka Torrent – It's hard for a mid-year release to make the year-end Top7, but the Speedgoat 2 and Timp did it in 2017. We think the Torrent has a real shot! It could take sales away from the Challenger 4 and the Brooks Caldera 2.
Altra Olympus 3.0 – Coming in May, it feels lighter than v2.5 and has other favorable changes. V2.5 almost made 2017's Top7, so we say v3 sneaks in for 2018.
Top7Trail Women's 2018 (Predicted)
Hoka Speedgoat 2 – narrower shoes don't seem to affect overall women's sales as much as men's.
Topo Terraventure – These will be tough to beat.
Altra Lone Peak 3.5 – The Lone Peak franchise has become so solid, it's hard picking it as low as third!
Hoka Torrent – we feel like these will catch on faster with the ladies, than the guys. Just a hunch.
Brooks Caldera 2 – Almost the same as v1, but with a nicer upper.
Saucony Peregrine 8 – A wild card here, since it's changing considerably from v7.
Altra Superior 3.5 – Virtually the same great shoe as v3. Sales could slip a bit as it competes with the new minimal zero drop Topo Runventure 2.
How good are these predictions anyways?! Well, let's look at what we predicted in 2017.
On the men's side, we only missed on the Altra King MT. It sold well, but not nearly as well as Altra's other new '17 models Timp and Escalante.
On the women's side, we really whiffed on the Merrell Agility Peak Flex. It wasn't sold well at all–and we picked it to finish First! Hopefully v2 in 2018 will get back to what worked so well in the All Out Peak. Also, the Salomon Sense Pro Max was a dud for women. It sold much better for men.
Only time will prove these new predictions right or wrong!
Happy New Year!!
2017 Top7Trail
2016 Top7Trail