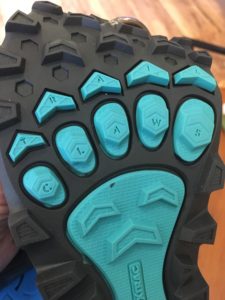 We love our lists…especially the year-end style.  You can say we really sink our claws into them! #TrailClaws
First up: the 7 shoes we are MOST excited for in 2018–the ones we wished we had already! #Wishful7
Most Anticipated Trail Running Shoes of 2018:
Inov-8 Terra Ultra 260 – July – Unlike any Inov-8 before, the flexibility and softeness will remind you of the Montrail Fluid Flex–but better.  The uppers of the Terra Ultras are dialed in and nice looking.  The shoe is built on a zero drop platform, but not as wide as Altra or Topo.  Traction that will feel great road or trail.
Altra Lone Peak 4.0 – September – Bummed that these got bumped back to September from their usual July release…but that will just build the anticipation even more!  Seemingly wider than v3 and v3.5 with better traction as well, the LP4 will surely please Altra fans!
Topo Terraventure 2.0 – October? – We have only heard rumors at this point that October will be the launch date; haven't seen any specs or notified of any changes.  That tells you how excited we are for the direction of the Topo brand.  If you havne't tried on Topo yet, you are missing out.
Brooks Cascadia 13…wait for it…in a 2E width! – June – Fans of the Cascadia have asked for a wider version for years, and it's finally going to happen–for men at least.  No width option for ladies planned yet.  The new upper seems really nice; midsole seems about the same as the last several generations.
Salomon Ultra Pro – July – These will have a variable midsole: more cushion the bigger the size gets.  Really cushioned feeling (for Salomon) in the 10 oz range for men, it'll still feel more grounded and nimble than the Sense Pro Max (a shoe that continues on without change).
Saucony Peregrine 8 – January – Totally overhauled from v7,  it'll be interesting to see how this shoe is received by consumers.  There's never been a Peregrine without a rock plate; and the tread pattern (which was well-liked and reviewed on v6 and v7) has been changed as well.
Hoka Torrent – June – The Torrent takes the place of the Speed Instinct in the Hoka Trail Line Up.  The Torrent is cushioned like a non-Hoka, though: Men's 23mm/18mm; women's 21mm/16mm.  9 oz for men.  It'll be interesting to see how it does compared to other non-Hokas.
Honorable Mentions:
Altra Olympus 3.0

– May – It's not as heavy and clunky as v2.5

New Balance Summit Unknown

– April – Dominic Grossman is behind it; that's all we need to know. (It replaces the Vazee Summit in NB's Trail Line Up.)

Hoka Challenger 4

– January – You can buy it at REI now and online…otherwise it would have made the above list.

Hoka Speedgoat Mid WP

– July – They are waterproof; look cool; and feel just like the regular Speedgoat 2.

Hoka EVO Mafate

– July – If it was wider and less expensive we'd really be excited! $170 is a lot consdidering the Speedgoat 2 is $140.  Mafate has 1 mm more of cushion and features Vibram MegaGrip, too.

Hoka EVO Jawz

– March – A true Hoka trail racer…but don't they now Ultra Runners race in Speedgoats?!

Salomon Sense Pro 3

– July – Sorry sense pro fans: your shoe is changing!  v3 is effectively a slightly wider older S-Lab Sense SG shoe.  Not too similar to older sense pro's…except you'll still feel fast!

Salomon S-Lab Sense 7 SG

-July – Now it'll be under 8oz!  Wow it feels light!

Salomon XA Elevate

– February – For a more technical, sturdy and tough-nose trail runner, these felt surpisingly good.

La Sportiva VK

– Feb/March – Another eye-candy trail racer.  Maybe you won't want to buy it, but you can't help but try it on!

Merrell Agility Peak Flex 2

-Jan/Feb- Hopefully they worked out the kinks from the APFv1 and got back to what worked so well in the original All-out Peak.
Already Available!  These New 2018 models arrived in December and we are excited to have them:
Topo Runventure 2
Brooks Caldera 2 & Mazama 2
Altra Superior 3.5
Check back soon for more lists!!