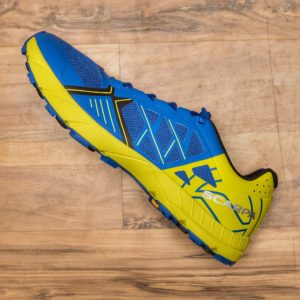 April is the month when sales really start to pick up.  Here are the shoes that capitalized most from the improving weather:
Women's Top7Trail April
Altra Lone Peak 3.0
Merrell Agility Peak Flex
Saucony Peregrine 7
Topo Terraventure
Altra Superior 3.0
Brooks Caldera
Hoka Challenger 3.0
Men's Top7Trail April
Altra Lone Peak 3.0
Topo Terraventure
Hoka Challenger 3.0
Saucony Peregrine 7
Altra Superior 3.0
Salomon Sense Pro Max – demo these Saturday 5/6 at 8:30am!
Scarpa Spin
The Hoka Challengers jumped onto both men's and women's lists for April.  Also 2 new men's shoes made the Top7:  the Scarpa Spin bolstered by a recent demo run and visit from Scarpa athlete Joe Grant, and the Salomon Sense Pro Max–Salomon's most cushioned trail runner.
The sales of Lone Peak 3.0 should die down in May as folks start to wait for version 3.5 coming to us in July.  What will jump up to the top spot then?!  New Brooks Caldera colors coming in May could give that shoe a bump.
We have Merrell's uber minimal Trail Glove coming into the shop in May: could that make the list?
Check back soon!