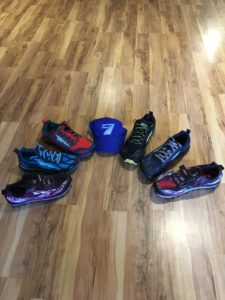 Here's our #Top7Trail shoe lists for the month.  This time we combined the sales from January 1st through March 31st to see how shoes did in the First Quarter of 2017.
Women's Top7Trail – (January – March, in terms of numbers sold)
Altra Superior 3.0 – The little sister out duels the big sister!  The best we've sold any Superior version!
Altra Lone Peak 3.0 – It was really close to being #1 again.  Sales should slow down as folks wait for version 3.5 coming in July!
Topo Terraventure – We knew the Terra would be big, and it did not disappoint.  Great shoe.  It was almost a 3 way tie for top honors.
Brooks Caldera – Our best selling Max Cushioned Trail shoe for ladies for the first quarter.
Saucony Peregrine 7 – Sales dropped a bit compared to version 6.0.  The heel isn't as snug seems to be the culprit; but that's the same reason the men's sales of v7 have improved!
Altra King MT – Anything new from Altra garners attention no matter what time of year it launches.  We thought these would cut into the Superior 3 sales…we thought wrong!
Hoka Speed Instinct – Hoka has a  lot of cushioning here without feeling too chunky.
Men's Top7Trail (January – March, in terms of numbers sold)
Altra Lone Peak 3.0 – Men's sales weren't as close for the #1 spot.  The LP3 by a good margin!
Topo Terraventure – Besting all others, the Terra continues to impress.
Sauncony Peregrine 7 – As we mentioned above, men seem to like the fact that the heel is a bit looser compared to v6.  We had several guys not buy v6 because the heel pinched to much.  Even better forefoot cushion than v6 doesn't hurt sales either!
Altra Superior 3.0 – We'll have to see if the men's Superior can approach the pinacle reached by the lady's Superiors!
Altra King MT – Even though it's minimal; even though it came out in the worst sales month of February, the King MT made the Top7 list.  Unbelievable!  Well, not really: it's wide!  Trail Runners want wide!!
Altra Olympus – Will the Olympus be bumped out of the Top7 when the Timp arrives in July–or will Altra soon lay claim to 5 of the Top7??!!
Brooks Caldera – Hoka meets Brooks…it took a while, but Brooks nailed it with their first Max Cush shoe.  (Transcend never felt cushioned to us!)
In a surprising turn of events, a road shoe outsold every trail shoe we had at the shop during the first quarter of the year.  The Men's Altra Escalante gets the prize for most sold shoe of any kind at the shop!  We believe this is the first time we've had a non-trail shoe out sell the best of the best trail shoes.  The Escalante is truly a very unique and amazing shoe–a Must to try on!
Our overall trail numbers dipped a bit: selling 61% trail shoes vs. 39% road.  We're typically closer to 70/30.  We'll have to see if that trend holds up when we do our mid-year analysis.
Women's Top 7 Brands
Altra – 40%
Topo – 15.6%
Hoka – 11.3 %
Brooks – 11.3%
Saucony – 8.1%
New Balance – 6.3%
Salomon – 3.75%
Men's Top 7 Brands
Altra – 51.8%
Topo – 12.3%
Brooks – 7.9%
Saucony – 7%
New Balance –  5.7%
Hoka – 5.3%
Salomon – 3.1%
We were interested to see what would happen with the loss of Pearl Izumi.  Short answer:  Altra is taking over! We're selling more Altra than we ever have, and with new models like the Timp coming out in July, we can't forecast a slow down.  Topo sales should pick up with new road models coming in soon (Fli Lyte 2, Magnifly 2). They seem to be the brand that could take the biggest bite out of Altra's sales.
Hoka should see a big jump in sales by mid-year when the Speed Goat 2, Stinson 4, and Speed Instinct 3 come out.  We only just started selling the Challenger 3 due to the REI exclusivity, so that should boost their numbers too.
Brooks' June release of the Pure Grit 6 should boost their trail sales considerably–they could vie for the #2 spot by the end of the year, too!
****