Current Competitions
1)

Rainshadow Running Prediction Contest: Orcas Island 100
2)
Win an entry to the Stewart Mountain Half/10k
Rainshadow Running Prediction Contest
Orcas Island 100, February 24th-26th 2017.

INOV8 is proud and excited to be the presenting sponsor of the 2017 Rainshadow Running Race series.
The
2017 INOV8 Rainshadow Prediction Race #2: Orcas Island 100


contest prize will be:
a free entry into a future 2017 series WA Rainshadow Running race.
INOV8 have provided us with one race entry for a Washington 2017 Rainshadow Running race. The winner of this competition will get to choose which one of the following races they would like to run:
NEW DATE Saturday April 22 // Yakima Skyline Rim 50k // Ellensburg, WA
NEW DATE Sunday April 23 // Yakima Skyline Rim 25k // Ellensburg, WA
Saturday, May 20 // Sun Mountain 100k // Winthrop, WA
Saturday, May 20 // Sun Mountain 50k // Winthrop, WA
Sunday, May 21 // Sun Mountain 25k & (Free!) Kids 1k // Winthrop, WA
Saturday, June 10 // Beacon Rock 50k & 25k // North Bonneville, WA
Saturday, December 9 // Deception Pass 50k // Oak Harbor, WA
NB: Please read the entry details below carefully. It is different to our usual prediction contest rules.
Email us your prediction for
THE TOTAL NUMBER OF FINISHERS
for your chance to win:
a free entry into a future 2017 series WA Rainshadow Running race!
(Entries due: MIDNIGHT PST Thursday, February 23rd 2017)
We want to know how many registered participants will actually complete the Orcas 100 race and earn their 100 mile buckle. Having the closest guess will win you a free entry into a future 2017 series WA Rainshadow Running race!

Prediction Competition #2: Orcas Island 100 2017
view the official Orcas 100 registered entrants list
Rules, Entry Details and Tips:
This contest is open to anyone in the USA or Canada. You do not have to be running the race to win.
Put the following information on the subject line (Inov8 Rainshadow Running Prediction Contest – Orcas 100)
We acknowledge all email entries, if you don't get a reply, we haven't received your entry.
Send entries to sevenhillsrunningshop@gmail.com
Submit one number.
We want to know how many runners you think will finish the race.
In the event of a tie-break, we'll go to first past the post by using the time stamp on email entries
In the event of no one person correctly guessing the actual number of finishers, we'll put every entrant into a hat and draw one name to determine the winner.
You may want to see who, and how many people are signed up to run:
the Orcas Island 100 – view the official registered Orcas 100 entrants list
1 entry per person/per race
1 race entry win per person per year
Transport and accommodation is not included and is the winner's responsibility.
Non-transferable
Entries due MIDNIGHT before specified Rainshadow Running race day
Win an entry to the Stewart Mountain Half/10k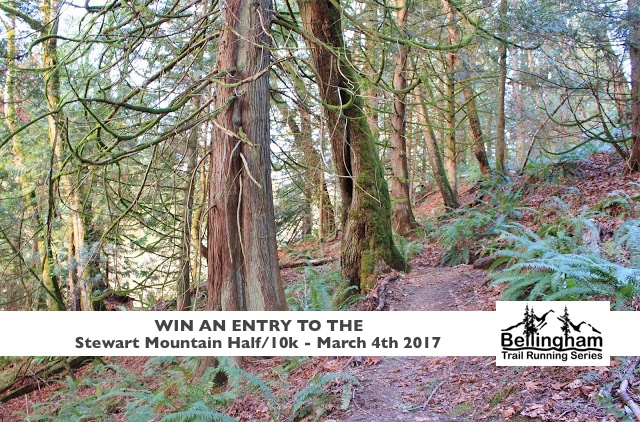 The Stewart Mountain Half & 10k​ is March 4th 2017. It is the only race that goes up Stewart Mountain! The Stewart Mountain Half Marathon starts at North Lake Whatcom Trailhead (Hertz Trail). The half marathon runs along the beautiful & blue Lake Whatcom before heading up Stewart Mountain for a partial out and back, and MY OH MY the views are sweet! The race descends by taking a single track trail after some logging roads with stunning views of Lake Whatcom and Bellingham. Runners will enjoy forest and lake views throughout the race.
Bellingham Trail Running Series has given Seven Hills Running Shop two free entries to give away, one for each distance.
To enter, go to our post on Facebook and
a) SHARE the post
b) COMMENT on the post letting us know which race you'd want to run.
We'll pick two winners on MONDAY, February 20th. Competition will close for entries at noon, and the winners picked shortly thereafter. Good luck.
Previous #First7toGlenn Winners:
White River 50 2016 –
Jessie McClurg, Erica Finch, Snow Peterson, Heidi Flora,
Korey Konga, Ather Haleem, Chris Schultheiss and Matthew Abel
Beacon Rock 2016 – Walter Hicks.
Sun Mountain 2016 – Mark Cliggett, Noah Wepman, Kaytlyn Gerbin, and Wendy Kahn.
Previous Prediction Contest Winners:
(2017)
Orcas Island 50k – 2/4 – Jon Lumb – a Yeti Trail Runners pom pom hat.
Orcas Island 100 – 2/24 – Heather Latham – a free Rainshadow Running WA 2017 series race entry – sponsored by inov-8.
(2016)
Deception Pass 50k – 12/10 – Walter Hicks – Salomon Running S-Lab Sense Ultra Set
Sun Mountain 100k/50-Mile/50k – 5/21 – Kaytlyn Gerbin
Gorge Waterfalls 100k – 4/2 – Jessie McClurg – Sponsored by Salomon Running
Orcas 100 – 2/19 – Becky Gifford – Sponsored by Salomon Running
Orcas Island 50k  –  2/6 – Elisa Malkasian – Sponsored by Salomon Running
(2015)
Orcas Island 50k  –  2/7 – Joel Reese – Sponsored by Trail Butter
Gorge Waterfalls 100k – 3/28 – John Toepke – Sponsored by Montrail
Yakima Skyline 50k – 4/18  – Laura Zeffer – sponsored by Merrell
Capitol Peak 50 miler – 4/26 – Philip Huang – Sponsored by Trail Butter
Sun Mountain 50 mile – 5/16 – Ryan Stormo – Sponsored by Pearl Izumi
Beacon Rock 50k – 6/13 – Jon Lumb – Sponsored by Inov-8
Oregon Coast 50k – Rachel Griebel (Team7Hills custom Fitsok Compression Calf Sleeves)
Deception Pass 50k – Tara Holland (UltrAspire Astral Pack)