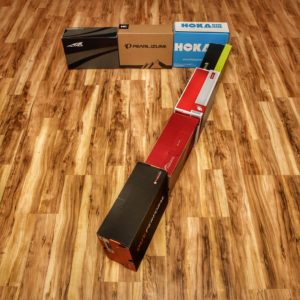 Our Top7 Brands for 2015 should not be a surprise if you saw our mid-year analysis.  Our Top 2 brands are distancing themselves from everybody else.  We don't see anyone stopping Altra anytime soon!
Top7 Brands 2015 (by number of sales, not including clearance items. Road and Trail shoes; Men's and Women's)
Altra – 22.1%
Pearl Izumi – 18.4%
Hoka – 13.4%
Topo – 8.9%
New Balance – 7.1%
Saucony – 6.5%
Merrell – 4.9%
Compared to 2014, Hoka, Salomon, Scott, Saucony, and Montrail had drops for us in 2015.
Altra and Pearl Izumi soared above the rest.
Topo came out of nowhere for a solid 4th place. Merrell made the list for the first time.
Our top 3 brands make up more than half of our shop's shoe sales: 53.9%
The Top7 account for 81.3%–about the same as last year's Top7.  The remaining 19.7% are made up of sales from: Salomon, Montrail, Inov-8, La Sportiva, Brooks, Scott, and Zoot.
Of our sales, 77% were in the Trail Running Category; leaving 23% for Road Shoes.  This breakdown always makes me smile and remember Scott McCoubrey saying that Seattle Running Company's Trail shoe sales were high compared to most running shops; SRC had 10% Trail Shoe sales and was considered the preeminent shop of their era.   Last year we had 68.2% Trail Running Shoe sales.
For 2015: 55.8% of our sales were Men's Shoes.  44.2% Women's shoes.
Predictions for 2016
Altra

– I just hope they don't get to be more than 30% of our business–otherwise they'll force us to stop carrying brands like Sportiva. But in '16 we're going to get Altra's new casual shoes, hiking boots, and cross-country spikes! And the Olympus 2.0 is easily my new favorite shoe.

Pearl Izumi

– The Road N3 and Road M3 did really well for us in 2015.  That trend should hold up–and voila: Here comes the Trail N3 due out in March!

Salomon

– This could be wishful thinking on our part…but the new Wings Pro 2, Mission 3, and Sense Pro 2 should all be easy sellers.  


Hoka

– Hoka's sales should continue to drop.  I love their shoes, but the style and colors haven't toned down.  There are too many models that are too similar.  The Challenger ATR has been the easiest to sell, but if we get the new version in February and if REI puts them on sale in October, it will have a very short life at full price.  We're worried about the Clifton 3.  It feels great, but different than the first 2 versions.  Oh, and Altra beat Hoka to quite possibly the best "Hoka" yet: the Altra Olympus 2.0

Topo

– The MT v2 will sell well all year to both men and women.  There's a new super cushy road shoe coming out in 2016, too.  The Runventure has been a steady seller as well.

Saucony

– Saucony should hold steady for one big reason: EverRun!  Their new cushioning is great!

Montrail

– Much like Merrell made 2015's Top7 list on the strength of mostly one shoe, I feel like Montrail will do the same in 2016 with the Trans Alps.  Hopefully we'll also do well with the Fluid Flex FKT, Caldorado, and Bajada 2.
Top7 Men's Trail Running Shoes 2015