The 2018 HURT 100 Endurance Run took place on January 13th with Team7Hills athlete Masazumi Fujioka taking on the challenge in Hawaii. Five gruelling and rooty rain forest loops later and Masazumi had hard-earned himself a third place finish for the second year in a row. Congratulations Masa!
The notoriously punishing hundred miler was inadvertently made even more emotionally charged for runners this year when an incoming missile warning was mistakenly texted to inhabitants, sending Hawaiians and visitors into a panic.
Of course, we had lots of questions for Masazumi once he had caught his breath.
#7Questions for Masazumi Fujioka
1) Congratulations Masazumi! 3rd place at HURT100 for the second year in a row, that's really solid and quite the accomplishment! How did your experience this year compare to 2017?
Thank you! I am so happy with my podium finish in a row. This 5-loop race is always hot, humid and it's never easy. Last year, I started off too aggressively and I was already exhausted by the 3rd loop. This year, I changed my strategy to conserve my energy toward latter half of the race. I was feeling good most of the time during the race. I almost caught Guillaume Calmettes who finished in front of me again this year. Overall I am satisfied with my run.
2) Your finish line video shows you running in somewhat the worse for wear. I think your words were "bent leftward and looks awkward." Can you tell us more about what happened and how long you had to push through like that? How is recovery going for you now?
I stumbled countless times over rooks, roots and steps. Plus, although I don't know exactly when, I struck hard my left back to the ground, and I began leaning toward left by the end of the 4th loop. I was scared to fall down when I was passing a path with a drop-off on my left hand. In addition to that, I pushed hard to chase Guillaume and not to be caught by other runners for the final lap.
I always get damaged more after HURT than any other 100 mile races. Still I am recovering well.
3) Did you hear about the missile alert while running?! If so, how'd that affect you?
I didn't know that until my wife Yoshi told me at the finish line, so it didn't affect me at all.
But some runners, crews and volunteers escaped to shelters and cut-off time was extended for 30 minutes. It was a trouble for race organizer for sure!
Look at my award. To the memory of this incident, a missile is printed on it!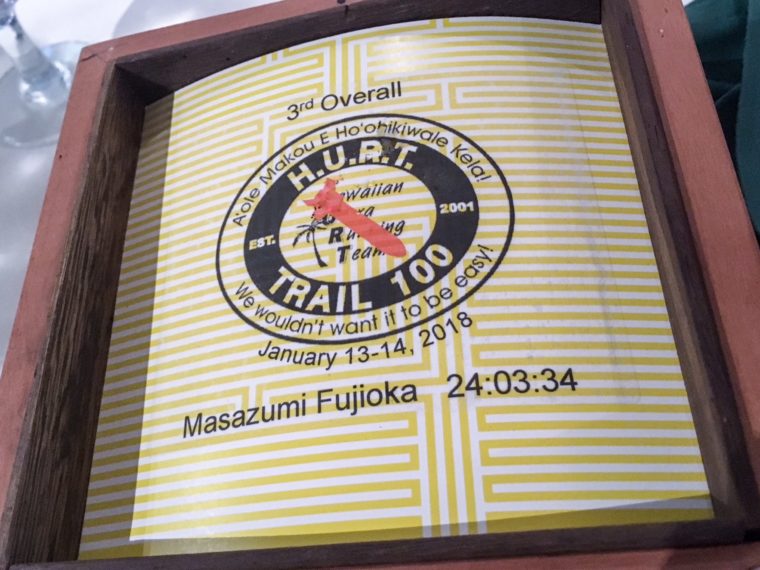 4) Taryn Graham asks: That course (HURT 100) looks brutal! I'd be curious to know what kind of course he favors. Loops? Technical? What's been your favorite race so far?
I don't care whether loop or point to point. Rather, like the sign you kiss at the finish of HURT says, "I wouldn't want it too be easy". I like challenging ones. The reason why I run a race is not always to compete, but to be part of a local community, feel the atmosphere or enjoy the scenery.
It's not easy to choose one favorite race, but HURT really has good community with warm family atmosphere. As a local of PNW, I'm huge fan of Rainshadow races which I recommend to everybody. In the races I ran last year, I really liked the scenery of Backcountry Rise.

5) What shoes/gear did you chose to wear for HURT 100? How will your choices change for Western States?
This year's HURT was relatively dry, but still it's technical with lots of roots and wet rocks. I conservatively chose discontinued Merrell All Out Peak which grips on this kind of terrain. I have been using them in many of my 100 mile races.
Salomon's S-Lab Sense vest always fits well to my body and hold flasks and gels without shaking up and down too much. To keep my neck cool, I used Tenugui, a thin Japanese cotton towel. I had it around my neck with ice cubes in it.
For the coming Western States, I am trying several shoes right now. Salomon Sense Ride have good cushion and traction. Altra Superior is light and quick. I am planning to participate in Western States Training Camp in May, so I will bring several pairs to try there and decide which ones to wear.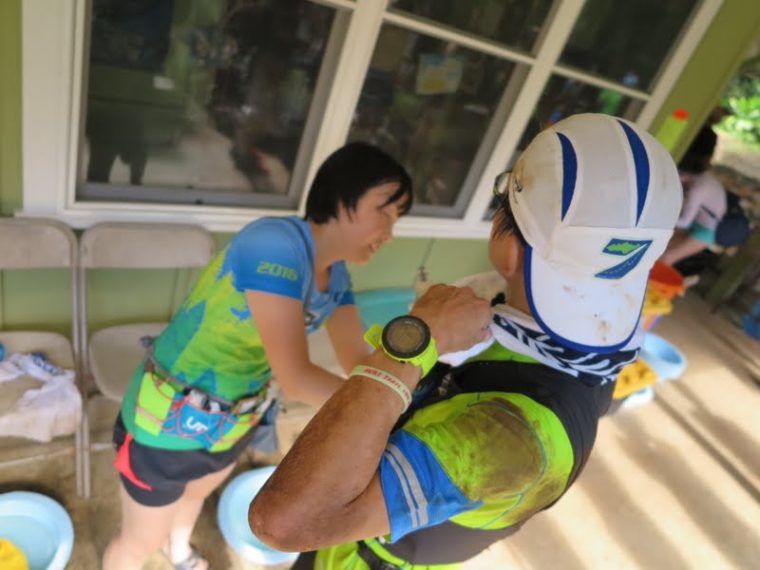 6) Michael C Miller asks: How did you train for the heat and humidity??

Although I am originally from Japan, and its summer is very hot and humid, that doesn't help at all as it's already more than 10 years since I moved to Seattle area.
I heard some people go to sauna but I didn't go that far. I did many of my workout on a treadmill in a warmer gym in December. I did some run after arriving Hawaii to get accustomed to the weather.

7) How does this race effect or set up for Western States training?
The result gives me confidence. But Western States is different race, so I will refresh first and build up from scratch. I ran twice as a pacer at Western States. It's dry and hotter than HURT. I will consider how to deal with it. It's going to be epic!
2018 HURT 100:
MEN:
1 Avery Collins, Steamboat Springs CO, 25 (21:44:00)
2 Masazumi Fujioka, Mill Creek WA, 46 (24:03:34)
3 Brian Oestrike, New Paltz NY, 38 (24:23:18)
WOMEN:
1 Darcy Piceu, Boulder CO, 42 (25:48:27)
2 Becky Bates, Kimberley BC, 55 (27:33:07)
3 Sabrina Stanley, Steamboat Springs CO, 27 (29:45:04)