April 2nd 2016 saw the third running of Rainshadow Running's Gorge Waterfalls 100k, a beast of a course winding through old growth forest along an incredibly sublime and scenic stretch of the Columbia Valley River Gorge in Oregon. The primarily singletrack course rolls through about 12000′ feet of gain and takes runners past some impressive waterfalls. Wahkenna, Fairy, Ocola, Weisendanger, Multnomah, Oneota, Ponytail, Elowah, and Dry Falls, among others tempt runners into pausing to admire their majesty.
Race day was unnervingly warm and sunny for early April in the PNW with temperatures holding in the high 60s and 70s creating perfect trail conditions. 292 racers started and 219 finished, with 207 of those finishing within the prescribed 17 hours to allow their run to qualify for entry into the Western States 100 2017 lottery.
At the front of the pack competition was fierce and the lure of four Golden Tickets, automatic entry to the 2016 Western States 100, to be awarded to the top two male and female entrants brought a strong field accepting the challenge.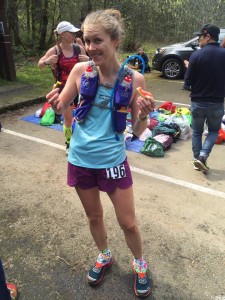 #Team7Hills was well represented out on the trail, with several notable Seven Hills Running Shop friends, including Kaytlyn and Ely Gerbin, Nick Martin, Jessie McClurg (pictured left), Michael "MCM" Miller, Dana Notman, and Michael Reopelle completing their first 100ks.

Sponsored Team7Hills runner Jodee Adams-Moore ran strong and took top podium place for the women, destroying the course record in the process.



MEN:
1 Rui Ueda, Tokyo JAP, 22 (9:09:37)
2 Chris Mocko, San Francisco CA, 30 (9:10:04)
3 Jeremy Humphrey, McCall ID, 36 (9:34:11)

WOMEN:
1 Jodee Adams-Moore, Sedro-Woolley WA, 33 (10:27:58)
2 Amanda Basham, Boulder CO, 26 (10:34:10)
3 Keely Henninger, Portland OR, 23 (10:54:03)

Now she's had a chance to catch her breath, we took a moment to ask Jodee a few questions:

1) You've seen huge success at the 50k and 50 mile distances over the past couple of years, but this was your first 100k? How were you feeling going into this race?

The few weeks before the race I was questioning myself whether or not I should race because I hadn't done any runs over 2 hours since October (Les Templiers 80k), BUT I felt fit having trained all winter on the steep coastal mountains of Skagit and Whatcom.

I also thought that the 2 weeks of biking I did a month prior on an old Diamondback mountain bike in Pahoa, Hawaii helped my slightly achy running body rest while other parts of me got really strong. With a week to go I told myself to just get my butt to the start and go into the race open hearted – as a new experience.

2) You just crushed the course record at Gorge100k and from a bystanders view it looked pretty effortless. Can you tell us a bit about the race from your perspective?

Once into the run the miles passed by quickly and I felt pretty peaceful and happy.

At the 50k turnaround I was still positive and ready to make it back. I saw the second woman several minutes back and know enough by now that I had to keep plugging away if I was to hold my place.

The most challenging section was with a half marathon to go and there is that dreaded road stretch. I was feeling tired by that point and running flats seemed challenging but I ran most of that stretch and then enjoyed the long climb as I power hiked and rested the running muscles. I also usually feel better back in the deep, cool forest. There were several men I hooked onto as impromptu pacers through out the race which really helped me conserve energy and relax a bit.

At the final aid station I was tired but determined and knew that a lot of downhill awaited – most all of the hard work was over and gosh darn it, I just might have won the race.

3) How critical is the right running gear to you? Tell us about your race day choices.

The right gear is important. I HATE carrying stuff while I run – I like to feel light like I'm dancing! After 4 50-milers I've got my gear to: a little vest pack that can hold two small water bottles up front and a few gels. It's way better than hauling water on my back and my hands get to be free.

I took a gamble and wore a brand new pair of light weight New Balances* that were on sale at Fairhaven Runners (procrastination?!) and except for some slicker rocky sections the shoes were so fun and I only have one small blister!!! I consider this a small miracle. I like to make sure my shoes are really fresh for such long races but I don't recommend the last-minute-never-tried-them-before approach.

4) What about drop bags? Did you take advantage of having drop bags along the course and, if so, is there anything you can't do without in a drop bag?

Nope – no drop bags for me. The aid stations have everything I need.

5) Last year pacers were allowed at the Gorge100k and many people took advantage of that. This year Rainshadow Running moved to disallow pacers from all their races as it was decided that the use of pacers was at odds with their vision. You seem to be someone who appreciates alone time on the trails anyway, but how do you feel about pacers, and how do you think it effected the race?

I've never been in a race with pacers (that I've noticed). Like I said earlier, there are men up front that are nice to "sit" on from time to time and then it's nice to have sections all to myself too. I don't believe pacers are necessary at this race.

6) You straddle the worlds of athletics and art as when not running you are occupied creating artwork and working with ceramics. Both ultra running and pottery could be said to be very introspective activities. Would you agree that describes your personality? How does your running direct your artistic side, or vice versa?

Creativity is infinite and fun and running feels that way too. Both bring inner joy and fulfillment. When I'm doing either I am usually thinking about the other sometimes and thinking how lucky it is to have both so powerfully woven into my life.

7) Your win at Gorge secured you one of the four coveted Golden Tickets that were up for grabs. This gives you the opportunity to race the Western States 100 this coming June. We're excited to see you tackle the 100 mile distance, but will you be cashing in your ticket and representing Team7Hills at this prestigious race, or do you have other plans for 2016?

I haven't decided whether or not to pursue the Western States 100 this year. I'm waiting for a sign. I should know pretty soon…

Thanks 7HILLZ! What a beautiful community to be part of!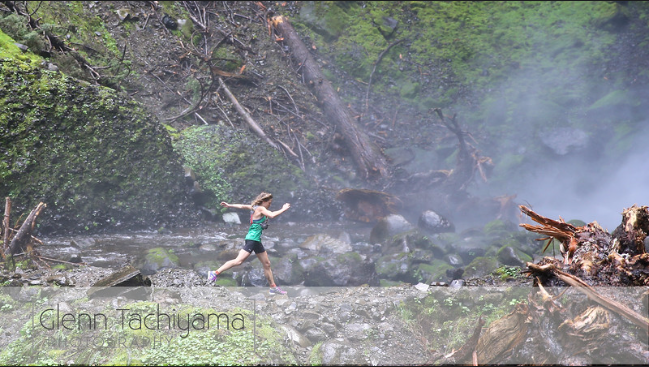 *Jodee wore New Balance Zantes.