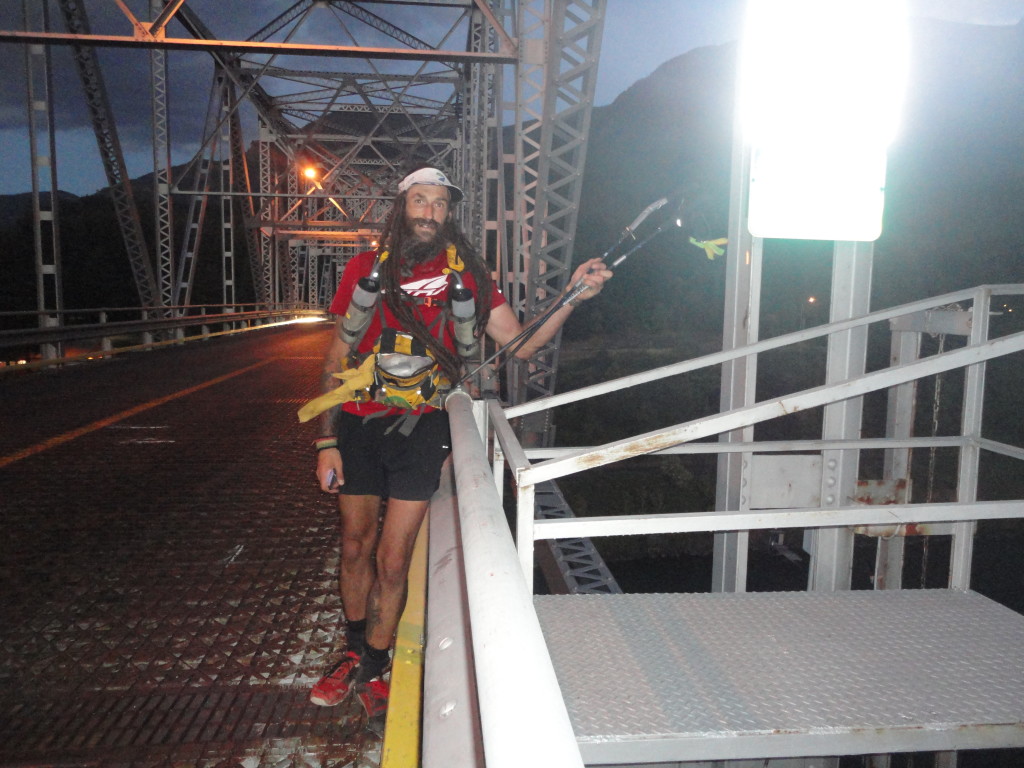 Team Seven Hills member Ras Vaughan recently accomplished an amazing feat. We are continually inspired by our community of athletes and hope we can get him in for a presentation about it later this fall. Here's his press release about his adventure:
At 8:31pm on Tuesday, August 19th, Ras Jason Vaughan reached the Oregon/Washington state line in the middle of the Bridge Of The Gods to become the first person ever known to cross Washington state on foot completely unsupported. He did so via the Pacific Crest Trail, establishing the inaugural speed record of 13 days, 14hours, and 58 minutes for an unsupported trip. Vaughan carried 29 pounds of food starting at the Canadian border and at no time picked up any sort of food cache or resupply. He did not forage or gather wild food, and did not accept anything offered to him by other people on the trail. The only food he ate was food her carried from the start, and he carried all of his trash until the end. He carried no tent or sleeping bag or stove, in order to save weight to allow him to carry more food. He slept on an inflatable mattress wearing a puffy jacket and pants and slippers. He ate dehydrated food that he soaked in a container instead of boiling.
The distinctions in methodology may be murky for those uninitiated in the Fastest Known Time scene. "Supported" means with the active, pre-planned aid of others, such as was used by Joe "Stringbean" McConaughy this year. He set the new Supported FKT for the Pacific Crest Trail of 53 days, 6 hours and 37 minutes. In 2013 Heather "Anish" Anderson used the "Self Supported" approach. She mailed food caches and resuppies ahead to locations along the trail where she could pick it up and buy other supplies. She also accepted freebies from other hikers and well wishers (commonly referred to as "trail Magic"), all of which was spontaneous and unplanned on Heather's account. She set the Self Supported FKT of 60 days, 17 hours and 12 minutes. At the time, it was also the overall FKT for the Pacific Crest Trail, and still stands as the overall Women's Fastest Known Time.
Vaughan began his trek 15 days prior at the Hart's Pass trail head in the Paseytan Wilderness of north-central Washington. He completed a 30 mile approach hike to the northern terminus of the PCT at the Canadian border on August 4th, took a "zero day" (thruhiker jargon for a day with zero mileage) for rest on August 5th, and then officially began his journey at 5:33am on Wednesday, August 6th.
Due to not using a tent or sleeping bag, Vaughan suffered numerous miserably cold nights. When he would be awakened by the cold, he would clench the muscles in his core and upper boddy and wiggle his legs until he warmed up enough to fall asleep. When the cold would then awaken him again, he would repeat the process, often seemingly all night long.
About his food, Vaughan said, "I was amazed at how good my food was. I had cooked and dehydrated my own rice, soy strips, and tempreh, plus bought dehydrated refried beans. I would soak all these things together into a hearty and savory stew that was absolutely delicious. It was good enough that I would eat it at home, even when other foods are available. I couldn't have been more happy with how that played out."
However, extremely hot and humid weather for the first week and a heavy pack took its toll, and Vaughan was never able to make his 51 mile a day goal, although he regularly covered as much as 42 miles in a day. Additionally, rain forced him to seek shelter on two occasions and cut his days short, the extending his trip and stretching his food supply thin.
"I was carrying almost no rain gear," Vaughan explained. "My plan all along had been to shoot for a weather window. If it rained heavily and continually, my plan was to quit the trail and abandon the attempt. But on the two days when it rained hard, I was able to make it to shelter and wait it out, first in the Forest Service bathroom at Snoqualmie Pass, and then at the hiker's cabin at Government Meadows. Without those two bits of infrastructure, my trip would have been over."
By the 10th day Vaughan was rationing food and dealing with bouts of dizziness and light-headedness, as well as rubbery feeling legs and extreme fatigue, exacerbated by sleep deprivation. In order to carry extra calories with him, Vaughan had put 15 extra pounds on his usually 185 pound frame leading up to this adventure, but as he neared the end of his journey, even these resources had been burned through.
Vaughan had been haunted by feelings of loneliness throughout this endeavor, specifically being separated from his wife Kathy, with whom he is very close, and with whom he usually undertakes these adventures together.
"The night of my approach hike I had a very vivid and realistic dream that I was home with Kathy and we were drinking coffee and chatting and enjoying one another's company intensely, " Vaughan explained. "Then I suddenly awoke to find her gone and a heavy and dark sense of loss washed over me that I would be unable to shake for the entire journey. I was constantly reminded of her big, blue eyes filled with tears as we said our goodbyes, and her repeated declarations of, 'I wish I could go with you!' Those words and memories haunted me the entire time. To the point where my trip became like an Arthurian quest to be reunited with my Queen. Getting back to Kathy became my focus and my mantra, and my main motivation for continuing on."
These factors precipitated an epic 97 mile push to finish out the route beginning the morning of the 12th day. On his Facebook page, where he is listed as "Ultrapedestrian Ras," Vaughan described that final effort as follows:
"I really struggled being apart from Kathy for this adventure, and reuniting with her became my main motivation and focus. On the second to last day my goal was to get to the point where I had 90 miles left to go, sleep, then try to finish in one long push. However, high on the flanks of Mount Adams, around midnight, hiking by headlamp, I came to a series of sketchy crossings over a powerful and swollen glacial run off. I bushwacked upstream and down and tried a few different routes, but couldn't find what I felt was a safe crossing in the dark and in my state of exhaustion. I didn't want to ford it and have wet shoes and gear for my final push, so I decided to bivouac and see if I could find a better crossing by daylight, thinking the runoff might go down overnight a bit. I spent a miserable night waking from the cold, clenching my muscles and wiggling my legs until I warmed up enough to fall asleep, then repeating the process, all night long. When morning finally came, I was able to string together some sketchy log crossings and debris hopping, and make it across dry. This left me 97 miles of trail to complete. I began at roughly 6:00 am Monday morning and pushed clean through until my finish at 8:31 pm Tuesday. Monday night was incredibly dark and warm. I never even had to put on evening layers, just continued on in my shorts and tech shirt, singing along to the Red Hot Chili Peppers at the top of my lungs as I hiked and ran through the Indian Heaven Wilderness. My feet were battered and every step was painful as I neared the Bridge Of The Gods and saw Kathy come running towards me. She burst into tears and started walking along side me saying, 'Oh my God, look at you!' astounded by my condition. She thought I looked pitiful, and said my shorts were just hanging off of me. But I had finally made it, and we were together again. I marched out to the Oregon state line, we took a couple of photos, and then it was back to the car for homemade molasses cookies. And when I took off my pack for the final time and sat down in the passenger seat, that's when the pain began in earnest."
Vaughan and his wife Kathy are pursuing their goal of living as full time adventurers and writers.
Last April they thruhiked the Arizona National Scenic Trail in an effort in which Kathy established the inaugural Women's Fastest Known Time for the 800+ mile trail. The couple are writing a book about the adventure, entitled Across Arizona As One. They are running a Kickstarter campaign to fund the writing and publication of the book, a link to which can be found on their website at www.UltraPedestrian.com.
Vaughan's next adventure will be running the upcoming Tahoe 200 Mile Endurance Run around Lake Tahoe, on September 5-8.