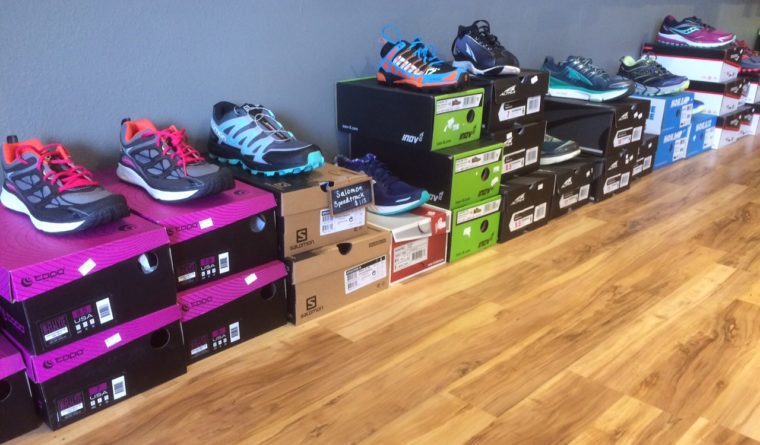 *** NOW until SUNDAY APRIL 30th – Buy 1 pair of sale shoes for $75, Buy 2 pairs of sale shoes for $100! ***
Just In Shoes #NewTrailShoes:
Inov-8 Trail Talon 250
Scarpa Spin
Merrell All-Out Crush – Tough Mudder, anyone?
Altra King MT – Yep, the one with a velcro strap and Vibram Mega Grip
Altra Escalante – Not just a cool looking shoe: amazing cushion; nicest Altra upper yet!
Altra Superior 3.0
Salomon Sense Pro Max – Salomon's Max Cushion model
Hoka Hupana and Challenger 3
Just In Packs:
Ultimate Direction Fast Pack 15, 25, 35 — 45 still to come!
Salomon Adv Skin 5 Set and 12 Set – New 2017 version!!
Salomon Sense Ultra 5 Set and 8 Set
New Salomon Soft Flasks with the wide opening!
UltraSpire Alpha 3.0, Zygos 2.0, Spry 2.0, Epic Pack
Nathan Vapor Krar 4L and 12L
Nathan Vapor Howe 4L and 12L
Other New Stuff
Hoka Ora Recovery Slides
Men's Janji Ts with shop logo!
New Trail Butter flavors: Cranberries & Sunflowers, Maple Syrup & Sea Salt, Dark Chocolate & Coffee
Men's Janji shorts
New Grey Seven Hills Shop Ts
New 7hills Headsweats Hats!! First time we've had Navy Blue, Royal Blue, and Purple options.
Territory Run Co Trucker Hats
Fun Stuff:
Wednesday 4/26 Huma Gel Tasting Party and Group Run! – 7:30pm
Thursday 6/8 – Western States 100 send off party with Kaytlyn and Paige. –
7:30pm at the shop.
Run data junkies can now join our Team7Hills Strava Club!
#Team7Hills:
2017:
Matt Urbanski scorns the trail and takes to the road to run the 2017 Boston Marathon (2:39:13)
Kaytlyn Gerbin wins the Gorge Waterfalls 100k earning a Golden Ticket into 2017's Western States 100
Paige Pattillo finishes 2nd at Gorge Waterfalls 100k also earning her way into the Big Dance!!
Heather Anderson, Adam Lint, and Seth Wolpin all officially finish one loop at the Barkley Marathons
Keith Laverty finishes 9th at Chuckanut 50k and Masazumi is first Masters male for the 2nd year in a row.
Keith Laverty wins the Orcas Island 25k!
Masazumi Fujioka takes 3rd place at HURT 100!
2016:
Adam Lint wins the Deception Pass 50k – 12/10
Heather "Anish" Anderson sets a new Overall Self supported FKT of the Arizona National Scenic Trail!
Kaytlyn Gerbin is second at the 2016 Oregon Coast 50k!!
Kaytlyn Gerbin wins the Pine To Palm 100!!
Gwen Scott takes 2nd for the ladies at the Tahoe 200 Endurance Run!
Masazumi Fujioka, John Wros, Matt Urbanski headed overseas and took on UTMB, great performances from all three men.
Lots of 7s earn buckles at Cascade Crest 100 including Jon Lumb, Jessie McClurg, Jordan Maki &Dave Van Miller
 Group Runs:
Wednesday Night- 7:30pm
Saturday Morning – 8:30am *some Saturdays we will meet earlier and carpool to trails elsewhere