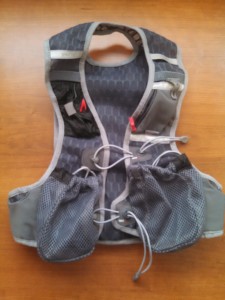 The ultraspire alpha pack is a unisex pack that comes in 3 different sizes. The black color is the small size; green is medium; large is red. They retail for $125. It comes with a 2L hydration bladder.
Review by Jess Mullen:
This is best small pack I have worn to date. I  love my Salomon S-lab 5 but this Ultraspire pack is a step up in many ways.
One of my favorite features of this pack is that it has a reachable horizontal pocket on the back side in addition to a vertical compartment for storage. This allows me to either carry a bladder or a water bottle (or both). The horizontal pocket in back is easy to reach without taking the pack off. I also appreciate that the back vertical compartment has a hook  to keep it closed so stuff doesn't pop out when you're bouncing around.
Even though this pack is very light and small, it can store a good amount of supplies. It fits like a glove and doesn't bounce around. The front pockets are wide and not too deep (one thing I didn't care for on the Salomon S-lab 5 pack was the deep pockets). There's also a small upper zipper pocket and a magnet pocket. The straps have nice elasticity and hook easily. Finally there are small pockets on the bottom sides that are easily reachable. I did not get any chafing from wearing this pack and barely noticed it was there. Two big thumbs up for this pack!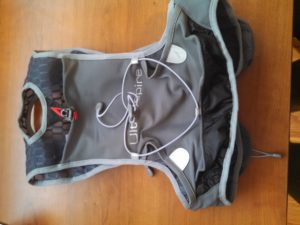 To news