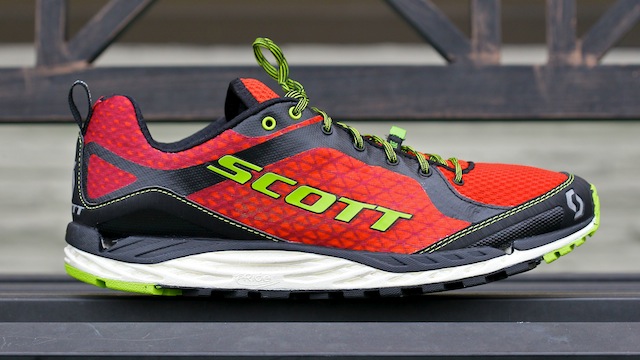 Scott Kinabalu 2.0
Submit your review of the Scott Kinabalu
This shoe is Highly Recommended by Glenn Tachiyama
Adam Hewey's Review:
I ran most of my shorter distance races this year in the Scott Kinabalu. I love the weight, the rocker and the grip. The new upper (green/black)  is a big plus as I destroyed the upper on my old pair (the original color). Perfect shoe for runs from 5 to 50 miles. I have a wider foot and find the shoe snug but forgiving. As a trainer, it is perfect for Northwest winter running on roads/ trails as the sole is nicely grippy without the added weight of a beefier shoe.
Phil's review:
All the upper-issues have been resolved in the 2014 edition of the Kinabalu.  If 2013's version was a little too tight or caused some rubbing–or if you felt the mesh creasing into the top of your forefoot–have no fear: the Kinabalu 2.0 takes care of all of these issues!
I still wish Scott would give their "heel drop" a range–similar to the way Pearl Izumi does–because the 11mm drop on paper for the Kinabalu feels false. The rockered (e-ride) nature of the mid-sole makes the shoe feel similar to other shoes that claim anywhere between a 5 to 8mm "heel drop".  This midsole platform just feels great!
Customers who loved this shoe raved about it's high cushion to weight ratio–it feels fast without minimizing the cushion.
Customers who liked the feel of this shoe also liked: Scott Winter Runner, Hoka Rapa Nui, Pearl Izumi Trail N2, Pearl Izumi Trail M2, Montrail Bajada, Saucony Peregrine, New Balance 910