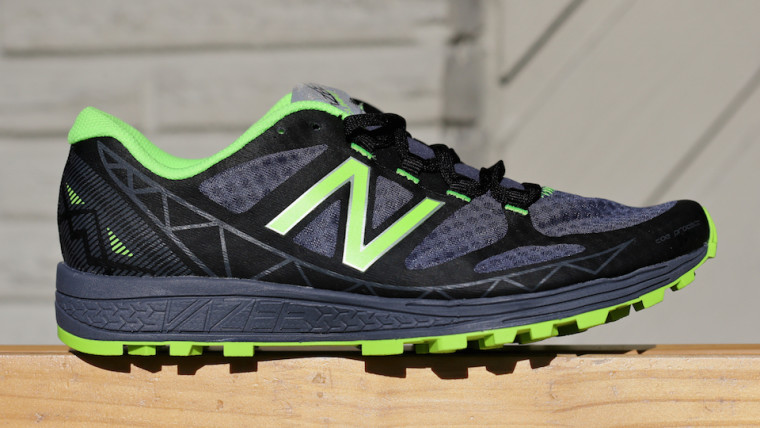 SHOE REVIEW: New Balance Vazee Summit
review by Korey Konga
I was, and still am, a HUGE fan of the NB MT101, but haven't been super stoked with any subsequent updates made to the line until recently when New Balance rolled the MT into the Vazee Line. I tested the proto this summer in the Olympic and Cascade mountain ranges where I was able to give them a decent thrashing and was fortunate enough to be able to provide a little feedback and experience first hand the innovation and commitment to excellence that New Balance strives for in their footwear.
The New Balance Vazee Summit weighs in at roughly 9 oz for a Mens 9.5 and will go on sale Spring 2016 with an MSRP of $100 * Note: This is a sample; this colorway will not go into production.
UPPER/FIT
New Balance originally used the Zante VL-6 last when developing the Vazee Summit but their outdoor athletes wanted less toe spring and more ground contact through the entire gait cycle and especially during toe off on the trail, so they went witht the 1400 comp last, which is no surprise as I've seen a number of trail and ultra athletes training and racing in the RC1400.
I personally have never tried the RC1400, but the Vazee Summit makes me want to as they ride like a dream on the trails. The fit is fairly snug and performance oriented, but not constricting; it just feels like an extension of my foot. With the mix of mesh and PU skin in the upper they seem to have achieved a near perfect balance of support and breathability. My feet did get a little warm in 80+ degree this summer on Mt. Si, but it hasn't been that warm here since and I'm told the issue has been resolved.
Another great feature of the Vazee summit is "Internal Toe Protect". New Balance wanted to keep a clean upper, so instead of adding external protection, they've added a toe bumper of sorts internally. This material is molded to the upper from the inside.
MIDSOLE
The midsole is comprised of REVlite; a light and responsive, yet durable foam compound. The great thing about this midsole material (coupled with the outsole material) is that it's springy enough to make clicking off fast road miles comfortable, which can be few and far between in a trail shoe, but it's just firm and responsive enough to give the runner trail feel and solid footing on varied terrain. The Vazee Summit also features a RockStop forefoot plate. It's made of a thin, flexible, protective TPU layer to keep you safe from push throughs and rock bruising. It did it's job on all technical terrain I encountered.
The midsole has a more "traditional" 10mm stack height with 8mm in the forefoot and 18mm in the heel. Now, a lot of runners give me grief when I recommend a shoe that isn't 4mm to zero drop because that's all the rage right now, but let's not forget how small a millimeter is! We're talking a pencil tip of differential spanning the length of the shoe for every millimeter! I haven't tried to change my form to a midfoot/forefoot strike and I haven't converted to zero drop because it's not comfortable for my body; heel striking feels good to me and so does a 4-12mm drop shoe. That being said, the vazee summit doesn't feel like a high drop shoe, so I think even low drop devotees will appreciate the ride.
OUTSOLE
The outsole is made of a new Hydro Hesion rubber blend. Hydro Hesion was developed by New Balance six or so years ago for a water shoe to provide extra grip, but the compound sacrificed durability to make the rubber optimal in wet conditions. It was later tweaked to a higher durometer version for increased abrasion resistance, but that proved to be less sticky, which isn't ideal on slick, rocky terrain. What New Balance has done with this new version of Hydro Hesion is strike a good balance between stickiness and durability, not only improving grip, but providing a softer feel underfoot when running on hard surfaces without sacrificing too much longevity in the rubber.
The Hydro Hesion is molded into fairly deep lugs that were designed with both ascending and descending in mind to give you security on steep terrain. These lugs are deep enough for muddy hills, sticky enough for rocky ridges and just soft enough to make road sections manageable.
CONCLUSION
To fully appreciate this shoe you have to take into account what kind of testing went into it's development and what New Balance wanted to achieve in the final product. "We wanted something fast that had a snug/performance fit, had great traction, and would be a shoe our ambassadors could feel confident racing in." Said Michael Buzon, Trail Tech Lead at New Balance. "They're all behind it."
With athletes like Anton Krupicka, Dominic Grossman, Brandie Erholtz and Katie DeSplinter testing these shoes in the mountains and on world stages like UTMB and Trans Alpine, you have to expect honest and critical feedback. New Balance took that feedback and made something excellent.
The Vazee Summit fit like a marathon racer made for the mountains while giving you the security you need on technical, mountainous terrain. The fit, the ride and the aesthetics blend together perfectly to create a masterpiece of a trail shoe; my favorite to date. Get yourself a pair, summit something and let me know what you think.